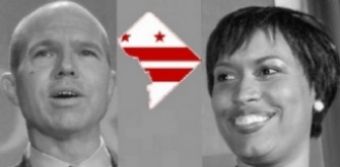 Women, the LGBT community, and racial minorities of the District made history in the April primary election. Councilwoman Muriel Bowser defeated Mayor Vincent Gray as Democratic nominee candidate for Mayor. In the general election, she will face David Catania, a prominent lawyer and the first openly gay member on the D.C. Council.
At the end of the election in November, the District of Columbia will have a woman or an openly gay man as Mayor. Minority groups generally face difficulties entering government and influencing policy. During this year's local election, minority groups in the District made history, but there is still a great need for progress and representation.
The District of Columbia has never had a non-democrat Mayor.  David Catania, a former Republican, is running as an Independent candidate. Catania has served in the D.C. City Council since 1997, and was the driving force behind the fight to secure equal marriage rights for all District residents. In an interview, David Catania said he does not expect voters to support him because he is gay. "In 17 years, I have never asked a person to vote for or against my sexual orientation," he said. "I'm asking people to support me because I have been a fighter on behalf of issues and priorities that are important to them."
If elected, Muriel Bowser would be the second African American woman to serve as D.C. Mayor. She is a native Washingtonian and is the Councilmember for Ward 4, one of the most racially diverse Wards of the District.  As a Councilmember she co-sponsored a bill that would give non-citizens, permanent residents of the District, an opportunity to vote in local elections. There are about 53,975 foreign-born District residents who are not naturalized citizens, according to 2012 Census data, and over 90 percent of these residents are 18 years of age or older. However, the legislation still needs to be approved by a committee before it goes to the Council, the Mayor for final approval, and pass a 30 days Congressional wait period before becoming law. "Muriel Bowser is a strong democratic candidate for Mayor. But if residents of the District want a say in local government they must form a strong coalition in support of the Local Resident Voting Rights Act," said Democratic State Committee member Mario Cristaldo.
A record number of 10 Latino candidates ran for office during the April primary.  Four were elected. Franklin Garcia, Founder of the D.C. Latino Caucus  stands as Democratic candidate for U.S. Representative. As a result of a high number of support from the city as a whole, Howard University Professor Silvia Martinez, Director of D.C. Mayor's Office on Latino Affairs, Roxana Olivas, and Activist Mario Cristaldo all were elected as At-Large members of the D.C. Democratic State Committee. Mario Cristaldo started his political work 20 years ago as member of the Latino Civil Rights Task Force.  "Through my participation in the Latino Civil Rights Task Force, I learned that the same issues that concerned Latinos like affordable housing were important to the city as a whole, and this encouraged me to seek a position in local office," said Cristaldo.
Latinos and Asian Pacific Islander are two of the fastest growing racial groups in the United States. Pedro Rubio who was the first Salvadoran-American born in the District to run for City Council was not elected.  Rubio who is involved in various community efforts and serves as Treasurer of the D.C. Latino Caucus said, "Running for City Council allowed me the opportunity to highlight the need for representation of Latinos in local government and improvement of our schools." Without participation and the power of voting minorities will not be able to take part of the organized structures that influence the outcome of political decisions. Rubio hopes that his candidacy also encouraged minorities in the District to be engaged, organize in their neighborhoods, and run for office.
Executive Director of Asian Pacific Labor Alliance, Gregory Cendana was the first Filipino- American in the District's history to run for local office. Cendana who was also part of the record number of LGBT candidates in D.C.'s primary election did not win, but affirms his political commitment, "If not now, when? If not us, who?" I believe that all people should be involved politically, it is what brings even more value to democracy, ensures elected officials stay grounded, accountable and constantly improving. Overall, it is important for any leadership body to reflect the larger population they represent," concluded Cendana.